ST. GEORGE — The 80th annual St. George Lions Dixie Roundup Rodeo is set for Sept. 11-13 at the historic Sunbowl in St. George and all that is missing, perhaps, is your participation. Whether you are lassoing, riding, roping or simply hollering, there are many ways for you to join in the fun. For years, the roundup has been a huge event for St. George and with 80 years now under the cowboy and cowgirl belt buckles, this year will not disappoint. All proceeds of the rodeo are donated back into the St. George area community.
"I think the crowd favorite is bull riding, although we always enjoy seeing the local cowboys and cowgirls participate in the rough stock and timed events," said Greg Mathis, co-chair of the Dixie Roundup Rodeo.
Participation from the community is encouraged, alongside the cowboys of the Professional Rodeo Cowboys Association.
"Every year we have many PRCA cowboys participate in our event, including the Wright Brothers, Cody, Jake, Jessie, and Alex, from Milford," Mathis said. "Cody is a two-time world champion, and Jesse is the defending world champion in saddle bronc.  Well over 50 percent of the PRCA cowboys who qualified for NFR (National Finals Rodeo) in 2013 participated in our rodeo."
The young cowboys and cowgirls will not be left out in this year's rodeo. Families, companies, sports teams, neighborhoods and the like are all invited to signup and participate.
Jr. Roping
The Jr. Roping event will be held Saturday, Sept. 13, at 10 a.m. in the Dixie Sunbowl, for those in eighth grade and under.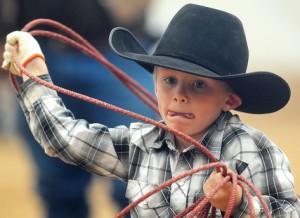 Deadline for registration:  Sept. 6
First roping: The rodeo will break-away horned roping cattle | Break-away roping three for $10 | One break-away roping with two divisions, grades five to eight and 4th grade and under
Second roping: Team roping round robin, and additional break-away as needed, will be held with the team roping three for $10 | Eighth grade and under
Entries: Call Chad & Natalie Drake at telephone 435-628-5593
Pre-registration requirements: Participants must pre-register for only one event, either break-away or team roping
Entry fee: $10, paid the day of the event, cash only with 100 percent payback to the winners
Parade
The parade will be held Saturday, Sept. 13 at 5 p.m. with the theme of "Roundin' Em Up for 80 Years."
Deadline for registration:  Sept. 8
Children's parade is combined with the general parade
Children's division: Showcase your child's team or club, church group, school or neighborhood | Trophies will be awarded to the top three winners and entries are limited
General division: Promote your business, show off your old car, blow your horn, strut your stuff or just wave to the crowd
Entries | Parade entry form linked here | Contact Wade and Jaine Milne at telephone 

435-619-1393
Pink Night
Friday, Sept. 12 has been set aside as "Pink Night." All the proceeds for Pink Night are donated to a special breast cancer fund at the hospital. The amount varies each year, but it is close to $10,000 each year.
Spectators and participants are encouraged to wear pink
When you attend Pink Night, you are not only supporting breast health, you are doing it locally
Sales for general admission rodeo and reserved seating rodeo tickets will begin Saturday, Sept. 6, at the Lions building north of the Sunbowl.  Tickets will also be available on each weekday Sept. 8-13 from 8 a.m.-5 p.m.  For your convenience, tickets are available by calling telephone 435-673-3301 and ordering with a credit card.
Rodeo Queen and Court
In May, the contest was held for the Dixie Roundup Rodeo Queen and Princess, with a variety of runners-up and other titles awarded. Beauties representing the rodeo court are:
Queen Contest
2014 Dixie Roundup Queen: Kaity Bishop
1st Runner Up: Mikayla Huston
Miss Photogenic: Kaity Bishop
Miss Congeniality: Alena Weida
Best Speech: Kaity Bishop
Best Appearance: Kaity Bishop
Best Interview: Kaity Bishop
Horsemanship: Mikayla Huston
Princess Contest
2014 Dixie Roundup Princess: Trinity Certonio
1st Runner Up: McKinley Drake
Miss Photogenic: Trinity Certonio
Miss Congeniality: Aubrey Schafer
Best Speech: Trinity Certonio
Best Appearance: Mckayla Jimerson
Best Interview: McKinley Drake
Horsemanship: Trinity Certonio
---
---
Event details and resources
What: St. George Lions Dixie Roundup Rodeo 2014
When:  Sept. 11-14 | Gates open at 6 p.m. | Entertainment 6-7:30 p.m.
Where:  Historic St. George Sunbowl,  150 South 400 East, St. George, Utah
Cost: General admission $10 for adults, $5 for children | Reserved seating $15
Contacts: Email | Telephone 435-632-2136
Websites: St. George Lions | Rodeo
Related posts
Email: [email protected]
Twitter: @STGnews
Copyright St. George News, StGeorgeUtah.com Inc., 2014, all rights reserved